The Homeosomatic Lymphedema Program and Diplomate Certification Program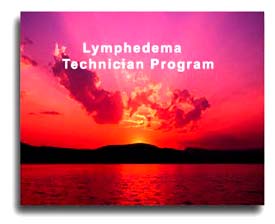 The AMMA Lymphedema Technician program is a post graduate program for massage therapists seeking to extend their education beyond their initial 500 or more hours of training in massage therapy. Those completing this AMMA program will receive certification as a Lymphedema Technician.
The Diplomate Certification program is designed for the degreed professional health care provider who desires to add Homeosomatic Lymphedema to his or her therapeutic regime as a treatment modality. The qualified individual must have completed a regionally accredited degree program in medicine, osteopathy or other allied health medical specialty in the U.S., or a similar program recognized by appropriate agencies within other respective countries.
Many of the techniques and therapeutic protocols used in the Homeosomatic Lymphedema program, those that go beyond the original Vodder lymphedema techniques, have been developed by Dr. Gregory T. Lawton during thirty years of clinical practice. This program teaches a practical, scientifically based approach to the practice and implementation of lymphedema techniques.
ARE YOU READY TO ADVANCE? START YOUR PROGRAM TODAY!
This program is divided into several sections. Each section includes specific course assignments and module tasks that must be completed and sent to the AMMA for grading and credit. The entire program is the time and work equivalent of a one semester college course.
NBCA Lymphedema Technician National Board Certification Examination and Diplomate Certification Examination
Upon completion of the Lymphedema Technician program, you may elect to take the NBCA
Lymphedema Technician National Certification Exam.
Code of Ethics
As a student of this program, you are expected to adhere to the American Medical Massage Association published Code of Ethics. A copy is provided with your program. You are expected to adhere to the highest standards in our industry. If for any reason, someone has violated the Code of Ethics, that person will be reviewed for appropriate action, up to and including dismissal from the association, expulsion from this program and no refund will be awarded.
The Lymphedema Technician Certification program is designed to interface with other AMMA training programs in medical massage and medical manual therapy. Additionally, the AMMA offers continuing education programs in a number of health science and healthcare fields including herbal medicine, clinical nutrition, and medical acupuncture.
Once this program is paid for in full, all program information and materials will be provided to the student. At the time the program and materials are received by the student there will be no refunds allowed.
For more information on the Homeosomatic Lymphedema Program or Diplomate Certification Program, please contact our eLearning Director.