Liability Insurance
Liability Insurance you can count on, wherever your practice takes you! American Health Source offers access to second party professional insurance programs for practitioners of the complementary, alternative and allied health care professions of massage therapy, manual medicine, acupuncture, holistic health, and personal training. Whether you work alone, in a group, a hospital, medical office or clinic you are covered by your liability insurance anywhere in the United States.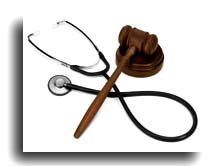 This policy is a high quality, occurrence based policy, which means that it covers incidents when they occur during the policy period, even if you no longer hold a policy under this plan. If an incident happened during the policy period, you are covered.
Each Occurrence: No Deductible Policy!
Professional & General Liability $ 1 Million
Annual Aggregate $ 3 Million
Product Liability $ 1 Million
Personal Injury & Advertising Injury $ 1 Million
Rental Damage Liability $ 50,000
Why do you need a liability Insurance?
You need liability insurance to shield your personal and/or corporate assets; anytime an alleged injury takes place and is claimed to be the fault of you personally. Without General and Professional Liability insurance protection, a claim filed against you could result in thousands of dollars in legal fees just to defend against the charges, whether or not they have warrant. If the result of the lawsuit is a ruling in favor of the claimant, you could lose all your business and personal assets and perhaps even face the loss of future earnings.
So protect yourself and your business!
If you rent, lease or are paying for space in a building, you can be held liable for accidents or damage even if your landlord has premises liability insurance. Additional insured can be covered for only $10.00 - $25.00 each.
You must maintain your practice as a law-abiding professional. If you fail to abide by local and state laws concerning your profession; such as licensing, registration or similar required credentials, you will not be covered.
Some exclusions may apply, depending on your professional scope of practice, including Acquired Immune Deficiency Syndrome, Communicable Diseases, Sexual Abuse, Body Piercing, and T-Bars.
If you have questions concerning the professional modalities you utilize, please contact AHS for confirmation of all covered therapies. You are not covered by this policy if you exceed the legal limit of your scope of practice, as defined by state or local regulations or board rules.